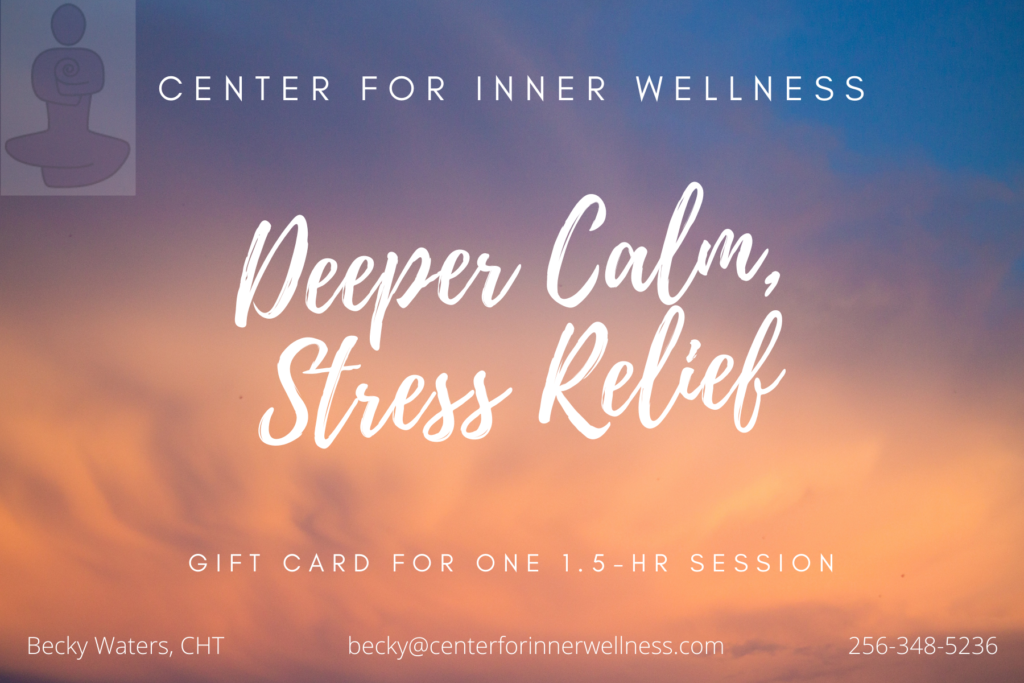 1.5-hour Hypnotherapy Session
This special session is a great idea for that hard-to-buy-for person, as a last-minute gift, or for someone you know who could use a little extra TLC. (Including you? ;))
And right now it's on sale through the holidays – (a $180 value.) Order yours here.
What are the Benefits of a Deeper Calm, Stress Relief session?
Release tension and stress
Regain a sense of inner harmony and balance
Create a 'Deeper Peace' anytime
Learn Tools & Techniques to get you 'Back to Happy' in 5-minutes or less
Bonus:
During this session, we'll work on your # 1 stressor and create a Calm-Response to it – which you can then use to replace the automatic stress-reaction.
As you continue to reinforce this Calm-response and use the other tools and techniques from your Deeper Calm, Stress Relief session, you'll find yourself becoming less affected by outer 'stressors' and more able to be the Calm in the middle of life's storms.
Most-heard responses from past clients:
"I never knew I could feel so relaxed."
"It's like getting a brain massage."
Purchase Your Gift Card Today
You can send this digital gift card for the full holiday sale amount ($150) or for any amount you choose.
Don't delay! I'm only offering a limited number at this price. And the sale ends Dec 31.